Pro arte edendi – Freunde der MGH e. V.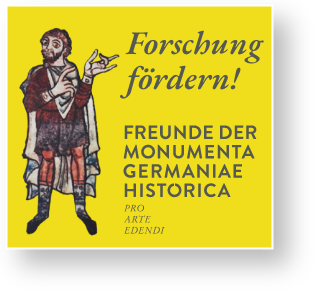 The MGH take their social responsibility for cultivating the future of historically based remembrance culture seriously by supporting coming generations of source-based mediaeval researchers. No less than in the past, the publication of mediaeval Latin sources in text-critical edition and technically up-to-date scholarly source research remains the keystone for mediaeval studies in the 21st century.
Pro arte edendi – Freunde der MGH e.V. is a charitable association set up to fund scholarships of up to three months for German and international graduate and post-graduate researchers working on the edition of a mediaeval text or on the study of mediaeval textual transmission, enabling them to profit from the outstanding facilities of the MGH Munich Institute.
As MGH Fellows, scholarship holders become part of an international community dedicated to mediaeval source study. The MGH profits in return from its scholarly and personal connections to a worldwide network of Fellows as potential editors and friends.
The association was founded on 18 Oktober, 2019.
Founding members of the board
Prof. Dr Marc-Aeilko Aris, chair of the board
Prof. Dr Claudia Zey, deputy chair of the board
Prof. Dr Enno Bünz
Prof. Dr Martina Hartmann
Dr Hedwig Munscheck-von Pölnitz
Contact:  Secretary's office / Administration