Digitised Rarities from the MGH Archive
In the course of two hundred years of editorial work at the MGH, numerous documents have been transcribed or photographed, some of which were thereafter lost. In such cases, the transcriptions and reproductions stored in the MGH archive are now the primary sources for their reconstruction and study. Our collection of digitised rarities makes these sources available online. Additionally, the collection contains some archival material and interesting correspondence illustrating the history of the MGH.
Bruno Krusch: Handschriftenbeschreibung und Exzerpte von Codex 134 Bibliothèque Municipal Metz (Kriegsverlust)
PDF (2,3 MB) | MGH-Archiv A 285
Friedel Peeck: Edition der Chronik des Vinzenz von Prag und der Bearbeitung durch Gerlach von Mühlhausen
PDF (99 MB) | MGH-Archiv A 131
Die Aufgabe des Editionsvorhabens begründete MGH-Präsident Friedrich Baethgen in seinem Bericht zu den Jahren 1943-1948 in DA 8 (1951), S. 13.
Urkunde Ludwigs IV. vom 17.8.1337, StA Frankfurt/ Main, (Photographie, Original verloren)
PDF (590 KB) | NL Bock 14
Auszüge aus den Registri Angioini des Hauptstaatsarchivs Neapel (1943 verbrannt)
PDF (6,7 MB) | NL Bock 47 (Nachlass Friedrich Bock)
Materialien aus der Diplomata-Abteilung zu Philipp von Schwaben, vermutlich zweite Hälfte 19. Jahrhundert
PDF (8,6 MB) | MGH-Archiv A 168-1
Ludwig Traube: Verzeichnis der Handschriften-Photographien
PDF (35 MB) | MGH-Archiv A 232 I/1
Gästebuch der Monumenta Germaniae Historica Pommersfelden 1946-1949
PDF (23 MB) | MGH-Archiv B 849
Ernst Kantorowicz: Bildpostkarte an Friedrich Baethgen, 10.09.1927; zeigt Kantorowicz im Garten mit Hund
PDF (546 KB) | MGH-Archiv A 246-5,1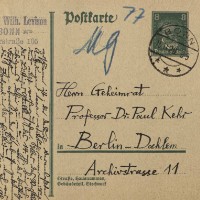 Wilhelm Levison: Briefe an Paul F. Kehr (1928-1935)
PDF (9,2 MB) | MGH-Archiv 338/244